Home Fitness Equipment
Blue indicates link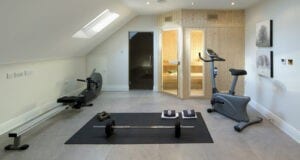 I personally hope these isolation rules will not be needed for much longer. We have to face it though, the only way to be safe is by following the proper COVID-19 safety protocols. I do miss going to the gym, a lot of it was the social aspect of it, and yes of course all the fitness equipment that was made available. My website deals with several aspects of maintaining a healthy lifestyle and empowering ourselves. One of the core components of a healthy life is keeping our bodies in motion. Exercise is vital to your well-being.
Creating Your Own Gym
Here we can look at some of the basic equipment to some of the more high-end equipment if it fits your budget well then go for it. There is no price tag on good health. I hope to cover some of the typical equipment you may want to have in your home gym. I will be doing some reviews on some of the popular equipment that you will be able to benefit from and make an informed decision to make the best choice.
Equipment
Leike Fitness Indoor Cycling Bike Stationary Easy to Assemble Ultra-Quiet Exercise Bike with LCD Display for Home Cardio Workout
About this item
Easy to Assemble. Just follow 4 steps according to the manual, and you can assemble this spin bike easily and quickly by yourself.

Easy to Move. The front foot tube Wheels help you move the exercise bike easily. Floor Levelers make it Easy Adjustment for Uneven Floor Surfaces.

Easy to Adjust. Fully Adjustable Seat and Handlebars Fit to the Whole Family. The wide seat is 7-way adjustable, and the handlebar is 5-way adjustable to fit those users with different heights.

Easy to Exercise. The LCD monitor tracks your time, speed, distance, calories burned, and odometer while you are cycling. Put your phone on the holder to watch videos. A comfortable seat cushion allows you to ride for a longer time.

Easy to Stop. Pushing down the emergency brake will bring the bike to an immediate stop. Besides, this Stationary Bike has a unique Magnetic Resistance Design-You can increase or decrease the Cycling resistance to choose a different Training level by a simple twist, the magnetic resistance system gives you the experience of a realistic, real-road feeling.
Product Dimensions:                         115.01×50.01x105cm; 32.54 Kilograms
Power:                                                   2 AA batteries required. (included)
Item Model Number:                          80499
Color:                                                      White
Display Type:                                         LCD
Drive System:                                        Belt
Meter:                                                     Heart rate, Time
Brand:                                                     Leike Fitness
Item Weight:                                         32.5 kg
"As an Amazon Associate, I may earn from qualifying purchases". There is no markup on this item. I find Amazon reliable and their delivery is excellent. For that reason, I prefer promoting products from Amazon.
Serene LIFE Home Rowing Machine – Air and Magnetic Rowing Machine
Brand: Serene LIFE
4.3 out of 5 stars 234 ratings
Product Dimensions:              196.09 x 40.89 x 75.95 cm; 28.58 Kilograms
Item model number:              SLRWMC18
Color:                                         Assorted
Style:                                         8 Resistance Levels
Material:                                   Aluminum
Number of Items:                 1
Batteries Included?               No
Brand:                                      Serene LIFE
Item Weight:                           28.6 kg
"As an Amazon Associate, I may earn from qualifying purchases". There is no markup on this item.
CHAIJY Multifunctional Adjustable Dumbbells Set, Exercise Barbell Weight Sets with Kettlebell Handle, 33LB, 44LB, 66LB Home Fitness Gym Equipment with Storage Box for Men Women
SYRINX Exercise Bike Indoor Cycling Bike Stationary Bikes Spin Bikes for Home Gym Fitness Machine Belt Drive Exercise Bicycle Cardio Workout Heavy Flywheel Digital Monitor
Brand: SYRINX
About this item
Upgraded Exercise Bike: Compared with other exercise bikes on the market, WE IMPROVE THE SPIN BKIE STABILITY AND COMFORT, FLYWHEEL WEIGHT, REINFORCED PEDAL, SILENT BELT DRIVE. The thickened steel frame and triangular support increase the stability and sturdy stand in your bicycle riding. The 35lbs flywheel stationary bike supports 350lbs, suitable for most people's indoor home fitness.

Quiet & Adjustable Resistance: An indoor cycling bike with the Belt-driven provides you a quiet riding, so you don't worry about disturbing others. Continuous resistance adjustment through the knob or push down the emergency brake to stop immediately. The pedals with adjustable straps could fix your feet well and prevent slipping off during riding.

Adjustable Handle & Saddle: SYRINX exercise bike supports for rider 4'5-7'2 and max weight 350lbs, widely used by beginners to advanced users! The handle and seat of the spin bike can be adjusted to 5 different heights. You can adjust the appropriate height for cardio training according to your needs. The non-slip and waterproof handle lets you do indoor training safely.

LCD Monitor & PAD Mount LCD monitor tracks your exercise time, speed, distance, and calories, mileage. By checking the effect of exercise through data, you can make an exercise plan scientifically. There is a water bottle holder and a PAD mount on the workout bike, so you can ride along with a class video or movie.

WARRANTY: We provide a 2-YEAR MANUFACTURER WARRANTY, 30 DAYS MONEY BACK, and 24/7 CUSTOMER SERVICE. Free to contact us if you have any issues. All tools and instructions are in the package. Online instruction videos can help you complete the assembly within 30 minutes. Hope SYRINX exercise bike to reach your fitness goals, have a healthy body, and make your life better.
Technical Details:
Parcel Dimensions:                                    102.2 x 86.8 x 23 cm; 36.22 Kilograms
Color:                                                             Gray
Display Type:                                                LCD
Drive:                                                              System Belt
Frame:                                                           Material Steel
Meter:                                                            Speed, Calories Burned, Time, Distance
Batteries Included?                                     No
Brand:                                                           SYRINX
Maximum weight capacity:                      350 Pounds
Item Weight:                                                36.2 kg
Visit the Sunny Health & Fitness Store
4.3 out of 5 stars 615 ratings
About this item
LOW IMPACT: This under-desk elliptical is a great way to incorporate lower body movement without putting pressure on joints. Enjoy a 7-inch stride while you're seated at work.

SMOOTH OPERATION: The Belt-drive mechanism and the 3. 52 lbs flywheel makes each stride simple.

EASY TO STORE: At 21L x 10. 5H inches, the under-desk elliptical is easy to store. Use the integrated handgrip to pick up the machine. Weighing just over 19 lbs, you'll be able to move it anywhere.

MAGNETIC RESISTANCE: Bump up the exercise intensity in a matter of seconds as you cycle through 8 levels of magnetic tension. Each level makes it progressively harder to complete a stride.

MANUAL OPERATION: With this machine, you're in control of your speed. There's no need to be plugged into the wall to operate the machine.
Brand: Sunny Health & Fitness
Color: Gray
Item Dimensions:                                                                  LxWxH52.1 x 41.9 x 26.7 centimeters
Item Weight:                                                                          19.1 Pounds
Resistance mechanism:                                                       Magnetic
Material: Steel
Manufacturer's suggested maximum weight:                220 Pounds
Number of resistance levels:                                              8
Drive System:                                                                         Belt
This is great if you are working at your desk doing computer or any other business work. Remember sitting is considered the new smoking.
Sunny Health & Fitness 7150 Minotaur Cycle Exercise Bike – Magnetic Belt Drive High Weight Capacity Commercial Indoor Cycling
Brand: Sunny Health & Fitness
Color: Black
Item Dimensions:                                                                     LxWxH130.8 x 69.9 x 120.7 centimeters
Item Weight:132.8 Pounds
Drive:                                                                                          System Belt
Manufacturer's suggested maximum weight:                   330 Pounds
Material:                                                                                     Steel
Serene Life Smart Digital Folding Treadmill – Electric Foldable Exercise Fitness Machine, Large Running Surface, 3 Incline Settings, 16 Preset Program, Downloadable Sports App for Running & Walking – SLFTRD25
Brand: Serene Life
FREE DOWNLOADABLE SPORTS APP: Get connected with the 'iFitShow' app that pairs with your device via Bluetooth connectivity. The app provides access to exercise activities, is available for iOS / Android, and works with smartphones, tablets, and laptops.

DIGITAL LCD DISPLAY: This smart treadmill features a 5″ digital LCD display screen with touch button controls that display run time, distance, speed, and calories burned. It also has grip sensors for pulse monitoring and adjustable speed up to 10 mph.

SELECTABLE RUNNING DIFFICULTY: The indoor incline treadmill also features adjustable speed settings, 16 preset training programs, and 3 manual inclined levels for runner difficulty. The running belt surface size is 43.3″ x 15.7 inches.

AUDIO PLAYBACK: Play your workout music via the USB flash and SD card readers with the MP3 digital audio playback function and built-in speakers for auxiliary devices. Perfect for weight loss, cardio fitness, endurance, and healthy stamina building.

FOLDING STYLE: This compact lightweight slim machine is portable and foldable for easy setup/storage for a home gym. Simple electric plug-in design with motorized power of 1.5 HP and integrated safety key emergency power off to cut power instantly.
You will be making a permanent investment in yourself. Don't you deserve it?
Like I have said I am an Amazon affiliate and yes, I do get a commission from selling any of their products. I also sell products for other companies, but for these products, I do believe Amazon is your best choice.
I will leave you with other choices to establish your very own home gym. Just click and you will be taken to that page.
Thank you for visiting.
Michael
Comments are welcome.