What is A Smoothie?
Blue indicates link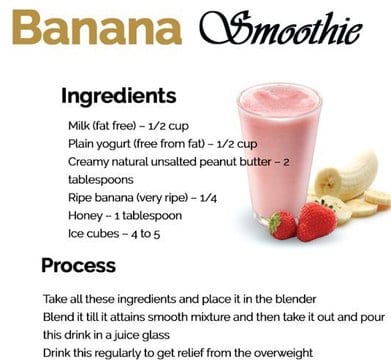 A smoothie is a drink made from pureed raw fruit and/or vegetables, typically using a blender. A smoothie often has a liquid base such as water, fruit juice, plant milk, and sometimes dairy products, such as milk, yogurt, ice cream, or cottage cheese. Smoothies may be made using other ingredients, such as crushed ice, sweeteners (honey), vinegar, chocolate, or nutritional supplements, among others by personal choice.
In some cases, sugar and whey products may be added, but I feel it compromises the benefits of your smoothie.
Types Of Smoothies
Energy-Boosting Smoothies
All smoothies provide some energy, but specific ingredients maximize the effect. A small red berry called goji goes well with kiwi, mango, and peaches in any blended drink. Adding oatmeal to a smoothie provides complex carbohydrates that fill drinks with pick-me-up potential. The Kitchin suggests first blending oatmeal into a fine, flour-like substance so that the grain gives drinks texture while keeping them smooth. UWire, a college newspaper, calls oatmeal a "high-octane food" with
fiber that keeps energy levels stable.
Vegetable-Based Smoothies 
The Harvard School of Public Health recommends copious consumption of fruits and vegetables, about nine servings per day, but says that dark leafy greens are among the best sources of nutrients. Blend some into your smoothie to reap the benefits, adding some natural sweetness when necessary to complement the taste. Mix kale, broccoli greens, cauliflower greens, or cabbage greens with any combination of carrots, juices, and flaxseed for a cool drink with an impressive nutritional
profile.
Tropical Smoothies
If nothing sounds better than a pina colada, stick close to tropical flavors by taking advantage of mango, banana, guava, and pineapple blended with coconut water or the juice of a watermelon. Other tropical fruits include the purple mangosteen, sweet lychee, and jujube, which tastes a bit like an apple. Add a dash of milk, yogurt, or other dairy products to any smoothie for added creaminess.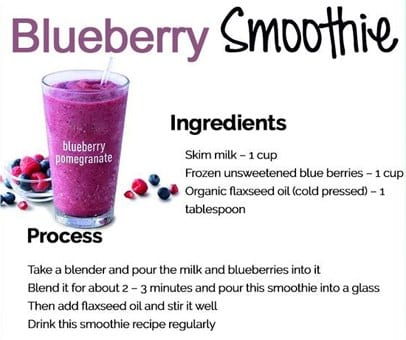 Protein-Packed Smoothies

You can use a smoothie to replace a meal if you add some protein to help you reach our recommended daily intake and provide a feeling of sustained energy. WebMD suggests that protein-filled, low-fat drinks can help with weight loss. Keep them low in carbohydrates by using low-sugar fruits and vegetables in place of higher-sugar fruits. The simplest way to add protein is with milk or a dairy alternative like soymilk, but protein powders like whey, casein, and soy powder are available in all kinds of flavors.
Smoothies For Weight Loss
1. Pear Matcha Protein Smoothie 
Anything green must be good for you, right? Well, it certainly makes you feel like you're doing
something healthy for yourself. We love the detox power that comes from the whole ingredients. From the pear, you'll get vitamins and fiber—necessary for losing weight. Matcha green tea is a great
alternative to coffee for adding some caffeinated pep to your step. Rounded out with spinach and protein, this is one smoothie that hits all the healthy marks.
To make, blend the following: 
2 scoops of your fave veggie-based protein powder (we like the Vega-Plant-based variety in vanilla)  1 cup of almond milk
1 cup of spinach
One whole pear (skin on)
1/2 tsp. of matcha tea powder.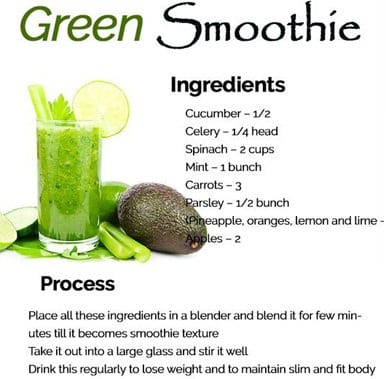 2. Detox Green Smoothie
Another "it's good to be green" smoothie, the ginger flavor here makes it oh-so-good! Not only is ginger delicious, but it helps regulate cholesterol and metabolism. Kale, spinach, and pear all add fiber and vitamins. Lemon and cucumber, plus mint, help to detoxify and soothe the stomach, respectively.
Throw the following in your blender:
1 stalk of kale
1 cup of spinach
1/2 lemon w/ skin
1/2 inch peeled ginger
1/3 cucumber
1 whole pear
1/2 cup of water
3 mint leaves
3. Watermelon Smoothie 
Watermelon is more than refreshing. It's also super low-calorie, full of nutrients, and hydrates you like no other! This blend adds some Greek yogurt and ice for an added boost of calcium and vitamin D to all those other goodies.
To make, blend:
6 cups of watermelon
1 cup of full-fat Greek Yogurt (we like the lemon sherbet flavor)
12 ice cubs added to the desired frostiness level
4. Banana-pineapple smoothie 
Whole pineapple pieces are an often overlooked smoothie fruit! But they deserve our adoration. We love them for their ability to soothe digestion, lower inflammation, and hydrate! High water content equals extreme tummy satisfaction. In other words, the longer you stay full, the longer you don't snack!
To make, add the following to a blender:
1 cup of pineapple
1 small banana
1 apple
2 cups of spinach
1/2-1 cup of water.
5. Blueberry Breakfast Smoothie 
Blueberries are a super-fruit among fruits. And for good reason: their phytochemicals! These powerful antioxidants—along with fiber and vitamins—help you to lose pesky belly fat. The psyllium husks in this blend are great for added fiber, too. Finish with soy protein and flaxseed oil and voila! You've got yourself the perfect breakfast!
Blend these ingredients:
1/2 large banana
1/3 cup soy protein
1/4 cup blueberries.
1/2 tbsp of flaxseed oil
1/2 tbsp of honey or apple juice concentrate
1 tsp of psyllium seed husks!
6. Strawberry-Apple Smoothie
They don't get as much hype as berries, but apples definitely hold their own in terms of nutrition.
Their fiber and polyphenols promote weight loss because of their non-digestible makeup. This translates into the magical "I feel full!" They're also loaded with antioxidants, so what's not to celebrate? Strawberries bring this recipe home, not just in taste, but also in function. Metabolism-stimulating, yet appetite-suppressing, they are belly fat's worst nightmare, really.
To make this concoction, blend:
1 cup of strawberries
1 large apple
2 cups of spinach
8 ounces of water or unsweetened almond milk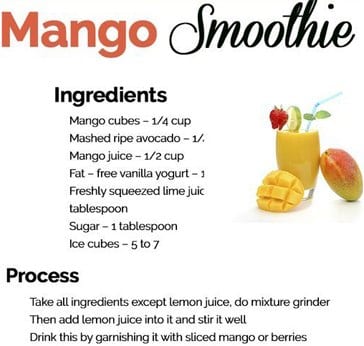 7. Avocado and Spinach Smoothie 
This smoothie has a secret ingredient…peanut butter! With this recipe, you'll be satisfied and full, all while going "green." Let us just say, avocados are a true friend. Did you know they help boost the nutrient absorption of everything else you eat? Plus, we know they're loaded with the "good kind" (read: monounsaturated) fat. Potassium-filled and fiber-rich, they also help to improve lipids and melt fat! We know you'll love this one!
To make this avocado spinach smoothie recipe:
1 small avocado
1 cup spinach
1 cup almond milk
1 small banana
Add all the ingredients to a blender and blend until smooth. Pour into a glass and enjoy!
Smoothies For Energy
Kiwi Smoothie with Cranberries 
Ingredients:
150 ml of light natural yogurt
3 tablespoons of ground linseed
2 kiwis
100 grams of dried cranberries
Preparation: Take the peel off of the kiwi and discard it. Blend it with the rest of the ingredients. Serve the smoothie and add the desired amount of honey. Finally, we recommend this smoothie in the morning due to the large number of vitamins it packs.
Properties
Kiwi provides essential nutrients to our diet, both vitamins as well as mineral salts because it helps to promote good functioning of the nervous and circulatory systems.
Sweet Temptation Smoothie
Ingredients:
1 medium bar of bittersweet chocolate
2 scoops of vanilla or strawberry ice cream
1 cup of 1% milk
Preparation
Melt the chocolate bar.
Once the chocolate is liquid, mix it with the milk and the ice cream, blending it until it has a creamy texture.
Properties
Chocolate produces a sense of well-being when you eat it since it contains stimulants (theobromine) and properties that cause euphoria. Additionally, chocolate contains antioxidants that help to avoid heart problems and vitamins that provide your body with energy.
Healthy Banana Smoothie
Ingredients
1 banana
1 cup of 1% milk
3 tablespoons of oatmeal
Preparation:
Blend the banana, the oatmeal, and the milk for two minutes. Serve the mixture in a glass and add a dash of cinnamon for flavor.
Properties
Banana possesses an excellent combination of vitamins and minerals that make it an indispensable food to any diet, including those diets associated with diabetes and weight loss. It is the perfect complement to an athlete's diet.
Banana and Walnut Smoothie
Ingredients:
1 cup of 1% milk
1 banana
3 walnuts
Chocolate cookies
Preparation
Place the banana, the milk, and the walnuts in the blender and, finally, blend until the walnuts are shredded.

Serve the smoothie together with the chocolate cookies as a garnish.
Properties
Walnuts are an "almost perfect" natural food due to their high level of antioxidants and proteins. The
Walnut contains many nutritional benefits, therefore, it contains high levels of polyphenol, which is a chemical antioxidant compound that helps the body to counteract the effects of the molecules that cause oxidation and harm the cells.
Orange, Banana, and Strawberry Smoothie
Ingredients:
Orange zest
1 banana
1 cup of soy milk
125 grams of strawberries
Preparation
Place the soy milk, the strawberries (after washing them), and the banana in the blender.
Blend the mixture for 1 minute and serve in a glass. Add a dash of orange zest for a delightfully delicious taste.
Properties
One cup of strawberries contains more than 13% of the daily recommended amount of dietetic fiber and just 43 calories. A dietetic fiber in the strawberries helps to maintain regular digestion. Furthermore, it lowers blood pressure and stops overeating. Moreover, this smoothie is extremely useful in helping us to recover after an exercise routine or session that has been very intense and
exhausting. Finally, the properties of each fruit included in this smoothie are excellent for recovery because of all its nutrients.
There are several types of smoothies and they serve various health purposes. I will leave you the link to a site where you will be able to take advantage of the smoothie recipes.
Juice and Smoothie Recipes For Various Purposes. Please click. 
Thank you for reading.
Michael
Comments are welcome.