Better Skin Using Herbal Alternatives
Blue indicates link
These are some of the most common problems when it comes to your skin. Please seek the advice of a dermatologist just in case there could be an underlying problem. Do not take any type of skin condition for granted.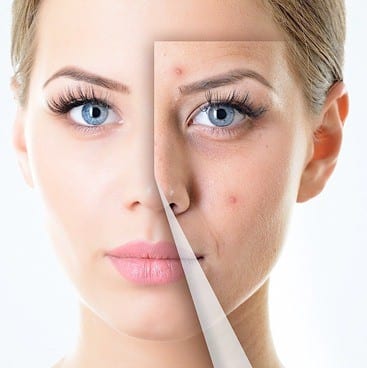 The skin is considered to be a large organ and at some point in time in their lives, most people will be affected with a skin issue. Many skin issues are not severe such as the pimples we get as teens. Other issues could be sunburns, exposure to certain plants, or minor chemical reactions. In many cases, skin issues are caused by different factors we face, from eating the wrong foods to having a mental trauma that activates an issue with our skin. There are genetic factors that can be involved in some people who end up with a skin condition. Self-awareness of what we eat and how we think can certainly help with many skin issues.
Acne
Acne can sometimes be influenced by genetic factors. Typically, acne starts to set in when the pores become clogged. Each pore is attached to a gland that will produce sebum and that oil attracts the growth of bacteria. The body is designed to protect itself and in that regard, white blood cells will start to wage war against the bacteria, resulting in the red acne you see some people suffering from.
Apple cider vinegar is known for helping in weight loss but it can also be used as a facial treatment. Apple cider vinegar has organic acids due to it being fermentated. Applying it to the afflicted area may kill the bacteria and reduce inflammation that in some cases will be left after the acne has disappeared. The proper way to apply apple cider is to first cleanse your face.
Next, take a diluted solution of apple cider vinegar and apply it to the face using cotton balls or a folded piece of gauze. Never apply the vinegar without diluting it first. The best ratio is 1 tablespoon of vinegar, mixed with three tablespoons of water. The final step is to wait approximately 30 seconds to wash the face with cool water and pat dry with a clean towel. Always pat the face dry as rubbing it dries with a towel can irritate the acne.
Honey is one of the most amazing foods in the world. It also has a lot of health properties and when paired with cinnamon, it can be a great alternative to over-the-counter topical remedies. The bacteria-fighting abilities of both honey and cinnamon are shown to reduce acne and the inflammation that occurs during a breakout.
To use this natural method, mix two tablespoons of honey with one teaspoon of cinnamon. This mixture has a pleasant odor and the next step is to cleanse the face and to lather gently the mixture onto the affected areas. Sit back and relax for 20 minutes while the mixture is absorbed by the skin. Afterward, gently rinse the face with cool water and again…gently pat the face dry.
It might come as a surprise but the green tea you drink works well at reducing acne flare-ups. Green tea packs a double punch with its tannin and flavonoid properties. To use green tea, make one cup, and let it sit to cool. Take a clean cotton ball and moisten it with the green tea, before patting each acne point on the face.
This is targeting the individual spots but you can also put the green tea in a small spray bottle and apply it overall if you wish. It would be best to lean over the sink and close your eyes before using the spritzer as it will coat your face and run slightly. Just use a clean washcloth to pat up the extra green tea.
Stress can attack sensitive parts of the body and make things more painful. For example, people who suffer from tendonitis find that when their stress levels go up, so does the occurrence of severe tendonitis. Unfortunately, stress can also increase acne production as it makes sebum production and inflammation skyrocket.
The acne lesions may have difficulty in healing as well because stress has been shown to inhibit the body's ability to close and heal any type of wound to the skin. Reducing the stress factor by drinking special tea mixtures, will help in reducing acne outbreaks.
Eczema
One solution that is available is the use of colloidal oatmeal. This is created by taking oats and grinding it to a powder before boiling them down to release the skin-healing properties within. Colloidal oatmeal comes in a lubricant form like many skin conditioners and is used for itchy skin. For tougher problems like eczema, it is essential to get good colloidal oatmeal from the health food store.
When purchasing from the health store, ensure that it is powered colloidal oatmeal and does not contain any fragrance or anything else added to it. Use the powdered oatmeal in the bathtub. Fill the bathtub with warm water, enough to be able to lie down in and cover the entire body.
The powdered oatmeal is placed in a large piece of cheesecloth and tied off to prevent leakage of the oats. Once in the tub, begin gently squeezing the cheesecloth to release the liquid from the oats. The water will turn a mild milky color from the substance being released. Make sure to hand mix the water and if not lying down in the tub, cup your hands, and run the milky water over your body.
Tea tree oil is used in many ways. People suffering from extremely bad breath find that the tea tree toothpaste helps to reduce the bacteria in the mouth associated with bad breath. Tea tree oil is actually extracted from the leaves of a tree found in Australia called the Melaleuca alternifolia. To use tea tree oil, it is best to dilute it with another oil that is considered to be a "carrier." One such oil would be olive oil. In a small bowl, thoroughly mix the two oils and then apply to the affected areas, using a cotton ball and gently patting.
If you prefer creams over oils, then give calendula a try. This cream is a long-time herbal remedy and works in three ways. It has been found to combat inflammation, and skin infections, and work to hydrate the skin. You can also use it to soothe burns or help heal minor skin cuts.

Psoriasis
There are a number of reasons why Epsom salts may work to reduce or eliminate psoriasis. Epsom salts contain magnesium which the body is usually lacking in due to the chemical treatments of the food we eat. By soaking in a bathtub with the salts, the magnesium can be absorbed by the body. Some skin conditions like psoriasis can arise from too much stress. Epsom salts have been shown to be a great stress reliever as well as relieving pain and inflammation throughout the body.
Adding turmeric to a wide variety of the foods you eat, can help with psoriasis relief. The healing properties of this yellow spice are vast and some of them are, inflammation from arthritis and reducing bad cholesterol. Turmeric can be easily added to the food you eat on a regular basis. Try some in oatmeal, stews, soups, spaghetti, and chili.
Hot turmeric milk is another option and it is commonly called, "Golden Milk." Be aware that you need separate pots and glassware to drink from, as the turmeric will stain a pot or porcelain cup.
Try adding oats to a warm bath. The oats have a healing property that can be released as the warm water works to dissolve them. The oats need to be dissolved in the water in order to release a milky-colored liquid. Many people put a cup of oats in a blender and grind them slightly, before putting them in a piece of cheesecloth.
The cheesecloth is then tied off and when in the bath, it is held underwater and hand-squeezed. Squeeze the cheesecloth until there is an end to the milky substance coming from the cheesecloth. Hand stir the water around to fully mix the cloudy milk-colored substance with the warm water.
Psoriasis needs lots of moisture to heal up. Try putting your favorite cream on the area and then wrap it gently with clear plastic wrap. To keep that in place, you can use a flex bandage roll and then pin that to hold everything in place. Do this before you go to bed, so that the affected area, gets maximum moisture.
Another possible way that might help your skin is to take spirulina. Learn more at why spirulina https://whyspirulina.com/anti-aging-skin-care-diet-spirulina/
The above article covers general, common skin conditions. Always seek the advice of a doctor when it comes to any skin problems you may have.
Thank you for reading.
Michael
Comments are welcome