The ideas and suggestions written by https://www.empoweryourlifestyles.com and any Guest posters on this website are provided as general educational information only and should not be construed as medical advice or care.
All matters regarding your health require supervision by a personal physician or another appropriate health professional familiar with your current health status.
Always consult your qualified personal healthcare provider before making any dietary or exercise changes. As the administrator of this site, I Michael of https://www.empoweryourlifestyles.com disclaims any liability or warranties of any kind arising directly or indirectly from the use of this website.
If any medical problems develop, always consult your qualified personal healthcare provider.
Only your physician can provide you with medical advice.
Throughout this website are links to external sites. These external sites contain information created and maintained by other individuals and organizations and are provided for the user's convenience. I, Michael of https://www.empoweryourlifestyles.com, do not control nor can we guarantee the accuracy, relevance, timeliness, or completeness of this information.
Neither is it intended to endorse any view expressed nor reflect its importance by inclusion in this site.
Anyone who has any serious illness such as unstable cardiovascular disease, kidney disease, cancer, or liver disease needs to exercise caution if making dietary changes. You should consult your physician for guidance.
If you are pregnant or lactating you should know that radical changes to your existing diet if you are pregnant–other than eliminating junk foods–may not be advisable and should be approached only under the guidance of a qualified and knowledgeable healthcare professional.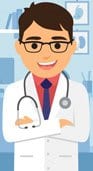 Also:
IN NO WAY SHOULD THIS WEBSITE AND ONLINE GUIDES BE CONSIDERED AS OFFERING MEDICAL ADVICE!
THE CONTENT ON THE SITE IS PRESENTED IN SUMMARY FORM, IS GENERAL IN NATURE, AND IS PROVIDED FOR INFORMATIONAL PURPOSES ONLY. NEVER DISREGARD MEDICAL ADVICE OR DELAY IN SEEKING IT BECAUSE OF SOMETHING YOU HAVE READ ON THE SITE!
This site offers health, fitness, yoga, herbal, meditation, depression, anxiety, and other topics regarding physical and mental health. This information is designed for educational and alternative suggestions only. In no way should this information be substituted nor replaced for professional medical advice, diagnosis, or treatment.
If you have any questions or concerns about your health, you should always consult with a physician or other healthcare professional. DO NOT disregard, avoid, or delay in obtaining medical or professional health-related advice from your healthcare professional, because of something you may have read here at, https://www.empoweryourlifestyles.com.
I Michael Mortimer of https://empoweryourlifestyles.com/ am not a Doctor, therefore the information I provide here is strictly through the research I have done via registered websites, and journals with the sole purpose of a source of information only. Always consult a medical practitioner. Due to this disclaimer, I am not responsible for any legal liability that a party might have been a patient to take the information provided by that party and act on it as if taking advice from a health professional.
"Because of the absence of a significant number of double-blind studies that demonstrate the medical effects of magnets, the owners of this website do not make or imply any medical claims for magnetic products. These products are not devices that cannot be relied on to supply medical benefits and are not a substitute for proper medical care
New research in the field of medicine may impact the health, fitness, and nutritional information that appears at, https://www.empoweryourlifestyles.com. I will be researching new articles and information every day to keep you up to date on any new aspects in the health, nutritional, and fitness arena. Unfortunately, some of this new knowledge may not be made available to me. Therefore, always follow the advice of your Doctor.
Thank you,
Michael