The New Diet Coke also Zantac
Blue indicates link
Have you seen the new flavors of Diet Coke? They've got enticing names like ginger lime, feisty cherry, twisted mango, and zesty blood orange.
But not so enticing? They also contain a potentially carcinogenic ingredient. It's an artificial sweetener called acesulfame potassium, Ace-K.
Like aspartame—the artificial sweetener long used in Diet Coke products—Ace-K is a high-intensity sweetener. It's 200 times sweeter than sugar, so only a tiny amount is needed to achieve the same level of sweetness as sucrose.
(The company's relaunched traditional Diet Coke, which will now be sold in a taller and skinnier can, will continue to be made with aspartame as the sole sweetener.)
Chemists discovered Ace-K in the 1960s, but the FDA didn't approve it until 1988. The agency says studies "support its safety." But critics warn that it isn't well-studied enough to warrant mass consumption.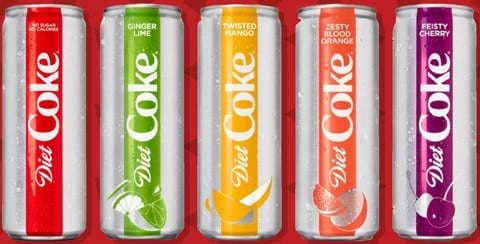 Ace-K's Disturbing Cancer Link
Other experts, however, are convinced that Ace-K is dangerous and should be banned. They point out that the sweetener is a potassium salt containing the known carcinogen methylene chloride.
Although Ace-K is the least-studied of all artificial sweeteners, some early research showed a link to cancer in lab animals. In addition to cancer, long-term exposure to methylene chloride is linked to nausea, headaches, mood problems, impairment of the liver and kidneys, and vision problems.
New Taste, Same Dangers
Artificially sweetened drinks are strongly linked to a higher risk of stroke and dementia, according to a 2017 study published in the American Heart Association's journal Stroke.
Researchers at the Boston University School of Medicine found that subjects who drank one artificially sweetened beverage per day were almost three times as likely to either have a stroke or be diagnosed with dementia.
Heather Snyder is the senior director of medical and scientific operations at the Alzheimer's Association.
"We know that sugary and artificially sweetened beverages are not great for us," she says. "This study adds strength to that, and also says they may not be great for your brain."
Save Your Brain—and Body—From Artificial Sweeteners
You don't have to risk your health to satisfy your sweet tooth. Here are healthy alternatives to artificial sweeteners like Ace-K:
Raw Honey. Look for 100% organic raw honey. If you can purchase it from a local source, even better. The darker the honey, the more nutrients it has.
Blackstrap Molasses. Not to be confused with regular molasses, blackstrap is a byproduct of sugar cane. It's loaded with healthy minerals and releases its sugar slowly. This will keep your blood sugar levels in check.
Stevia. This low-calorie natural substance is made from the leaves of a plant native to South America. Its glycemic index is zero, so it won't spike your blood sugar. Make sure to buy organic.
Even though that zero-calorie cola sounds like the wiser pick, have you ever actually read the ingredient label? Probably not. So we pulled the ingredients of a Diet Coke right off of its bottle: carbonated water, caramel color, aspartame, phosphoric acid, potassium citrate, natural flavors, citric acid, and caffeine. You already know about carbonated water and caffeine, so we broke down the other four mystery ingredients and inspected what's really in your Diet Coke.
Caramel Color
"Caramel color is made by a process involving the heating of corn or cane sugar and other carbohydrates to achieve the desired color." — Coca-Cola Co.
Science weighs in: "Caramel color sounds innocent, but it's not," says Alexandra Caspero, R.D., owner of weight management and sports nutrition service Delicious-Knowledge.com. Research published by the federal government's National Toxicology Program showed that long-term exposure to 4-methylimidazole—a contaminant in the caramel coloring—led to an increase in lung cancer in male and female mice. These findings resulted in the addition of 4-MEI to California's Proposition 65 list of carcinogens.
What's more, in 2011, the International Agency for Research on Cancer also concluded that caramel coloring is possibly carcinogenic to humans. And while caramel coloring is in a host of products (like baked goods and soy sauces), the frequency of how much we consume soda makes it more of a concern, says Caspero.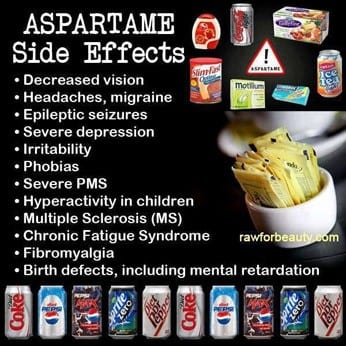 Aspartame is a low-calorie sweetener made primarily of two amino acids: aspartic acid and phenylalanine. Aspartame has been shown to be safe for everyone, including children and pregnant women. When used in foods and beverages a warning on the labels is provided to people who can't metabolize aspartame." — Coca-Cola Co.
Science weighs in: "There are many conflicting studies on the safety of aspartame, says Caspero. Animal studies show more of an increase in cancer risk than human studies have. But there is definitely enough of a connection to avoid or limit your exposure to the additive, she explains.
Asked in Food Safety, Sugar and Sweeteners, Aspartame
Is it safe to have aspartame while pregnant?
No, aspartame is harmful and poisonous.
Plus, the low-calorie sweetener may actually be tricking your body into weight gain. "Some studies suggest that when our taste buds sense sweetness, the body expects a calorie load to accompany it. When that doesn't happen, it may cause us to overeat because we crave the energy rush our body was expecting," says Cheryl Forberg R.D., author of Flavor First.
What's more, artificial sweeteners might also dull your taste buds, meaning you eat more high-flavor, high-calorie foods to satisfy your cravings, explains Forberg.
Phosphoric Acid
"Phosphoric acid is used in certain soft drinks, including Coca-Cola, to add tartness to the beverage. Phosphoric acid contains phosphorus, one of the basic elements of nature, and an essential nutrient. Phosphorus is a major component of bones." — Coca-Cola Co.
Science weighs in: The acid in this ingredient is what erodes tooth enamel, Caspero says.
Additional research has also linked excessive exposure to additional adverse health issues. For example, according to a study in the journal Epidemiology, drinking two or more colas a day—diet or regular—was associated with a twofold risk of developing kidney disease. The culprit? The researchers indicated that although the exact cause is unknown, the phosphoric acid in colas has been associated with urinary changes that promote kidney stones. (When left untreated, they can lead to chronic kidney disease).
Please know, that there are two sides to every story. Aspartame is one of the most investigated artificial sweeteners out there. The FDA has approved it saying it is safe. Is it worth the risk though?
Aspartame is one of the most feared and maligned food additives in history.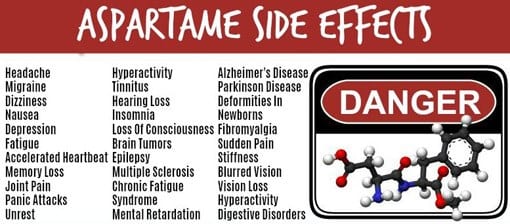 The European Food Safety Authority has just published research that concludes that consuming artificial sweeteners, which have been used extensively for more than three decades, is perfectly safe for the vast majority of people. The EFSA said that the acceptable daily limit for aspartame is 40 milligrams per kilogram of body weight. Considering that a can of Diet Coke contains about 180 mg of aspartame, and the average adult weighs about 70 kilograms (or 154 pounds), a quick mathematical calculation will reveal that you can drink about 16 cans per day without worry.
Moreover, the EFSA said that aspartame becomes toxic only once you consume 4,000 mg/kg of body weight – or about 1,600 cans of Diet Coke a day.
What are the harmful effects of Diet Coke?
The most recent headlines have raised concerns that diet sodas boost stroke risk. Diet and regular sodas have both been linked to obesity, kidney damage, and certain cancers. Regular soft drinks have been linked to elevated blood pressure.
Dangers of Zantac: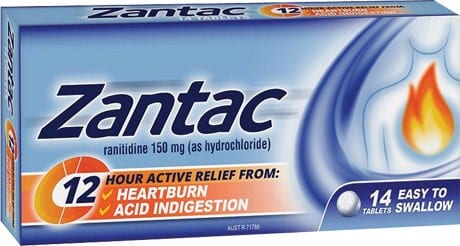 Using Zantac may increase your risk of developing pneumonia. Symptoms of pneumonia include chest pain, fever, feeling short of breath, and coughing up green or yellow mucus. Talk with your doctor about your specific risk of developing pneumonia.
Ask a doctor or pharmacist if it is safe for you to take this medicine if you have kidney disease, liver disease, or porphyria.
Before using Zantac
Do not use Zantac if you are allergic to ranitidine.
Heartburn is often confused with the first symptoms of a heart attack. Seek emergency medical attention if you have chest pain or heavy feeling, pain spreading to the arm or shoulder, nausea, sweating, and a general ill feeling.
Ask a doctor or pharmacist if it is safe for you to take this medicine if you have:
kidney disease;
liver disease; or
porphyria (a genetic enzyme disorder that causes symptoms affecting the skin or nervous system).
Ranitidine is not expected to be harmful to an unborn baby. Tell your doctor if you are pregnant or plan to become pregnant during treatment. Ranitidine passes into breast milk. Do not take Zantac without telling your doctor if you are breast-feeding a baby.
Zantac side effects:
Stop using this medicine and get emergency medical help if you have any of these signs of an allergic reaction to Zantac: hives; difficulty breathing; swelling of your face, lips, tongue, or throat.
Stop taking Zantac and call your doctor at once if you have a serious side effect such as:
stomach pain, loss of appetite;
dark urine, jaundice (yellowing of the skin or eyes);
fever, chills, cough with mucus, chest pain, feeling short of breath;
fast or slow heart rate;
easy bruising or bleeding; or
problems with your skin or hair.
Less common Zantac side effects may include:
headache (may be severe);
drowsiness, dizziness;
sleep problems (insomnia);
decreased sex drive, impotence, or difficulty having an orgasm; or
swollen or tender breasts (in men);
nausea, vomiting, stomach pain; or
diarrhea or constipation.
Well, I did go online to see if I could buy Zantac, and I could not. In fact, this is a statement I found released by Zantac.
Zantac Voluntary Recall:
We know there's been a lot of recent news about Zantac. At Sanofi, patient safety and the quality of our products are our top priorities. Evaluations of the product are ongoing, however, due to inconsistencies in preliminary test results of the active ingredient used in Zantac, Sanofi has, as a precautionary measure, made the decision to conduct a voluntary recall of Zantac in Canada and the U.S. as the investigation continues.
Well good for them. Kind of closing the barn door after the horse has got out.
Personal Note:

Please, most of us have an internet connection. Do your research before you take anything that may be controversial. Seems everyone is happy with the new Diet Coke. The information here about aspartame seems to be inconclusive. It is your decision.
Thank you for reading,
Michael.
Comments are welcome.