Claims and Settlements That These Products Cause Cancer
Blue indicates link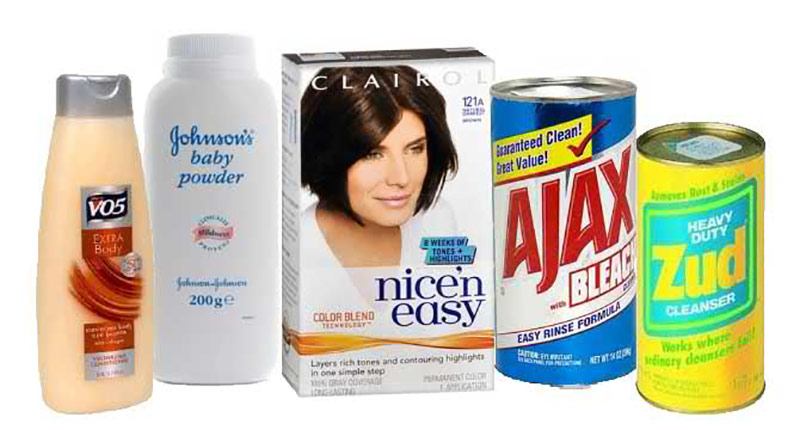 Recently Johnson's and Johnson's Talc powder, (Baby Powder) I came across the following documents. You decide:
A Missouri jury on Thursday ordered Johnson & Johnson to pay a record $4.69 billion to 22 women who alleged the company's talc-based products, including its baby powder, contain asbestos and caused them to develop ovarian cancer.
(NaturalNews) Johnson & Johnson (J&J) is the subject of a California lawsuit alleging that the company colluded with pharmaceutical consultant Omnicare to push its drugs on nursing home residents. Among the charges are allegations that J&J violated federal Medicaid laws with its schemes to maximize profits.
According to the suit, J&J was paying kickbacks to Omnicare to promote its drugs above those of other manufacturers, and convincing doctors that switching to J&J drugs was in their patients' best interests. The arrangement also included whitewashing these kickbacks as "performance rebates" that would be issued as "year-end bonuses."
"Residents were overcharged for their medications, had additional medications administered, and were unlawfully switched to Johnson & Johnson drugs," explains the lawsuit. These medications included Floxin, Levaquin, Risperdal, Ultram, Duragesic, Procrit, and Aciphex.
During their joint meetings to discuss "performance goals," J&J allegedly trained Omnicare employees to use "scripted communications" to convince physicians to switch their patients to J&J drugs as opposed to whatever they were currently on. This was included as part of J&J's "Active Intervention Program," which basically is just a fancy name pushing its drugs on seniors.
J&J even went out of its way to bypass federal laws that protect the interests of the Medicaid program. Medicaid provisions include a "best price law" that is designed to keep costs low for Medicaid reimbursement and when drug discounts and rebates exceed a certain threshold, the drug company would have to then pass those on to Medicaid. But J&J is said to have worked with Omnicare to develop a scheme to avoid this threshold.
J&J even went out of its way to bypass federal laws that protect the interests of the Medicaid program. Medicaid provisions include a "best price law" that is designed to keep costs low for Medicaid reimbursement and when drug discounts and rebates exceed a certain threshold, the drug company would have to then pass those on to Medicaid. But J&J is said to have worked with Omnicare to develop a scheme to avoid this threshold.
If the threshold was breached, Omnicare would have to initiate a retroactive price adjustment in order not to lose its kickback. So the company participated with J&J to make sure that didn't happen.
If the allegations are true, J&J has demonstrated itself to be unscrupulous in its business practice, willing to do whatever it takes to rake in the highest profit. Not only this, but it will also have violated federal law.
The class-action suit includes two groups of patients: those nationwide and those specifically in the state of California. Any nursing home patients who received drugs or services under Omnicare between April 1, 1997, and the present are eligible to participate in the suit.
Even eligible patients who have since passed away can have their estate included in the suit.
Johnson and Johnson's Questionable Ingredients:
Johnson and Johnson label many of their bath products as being "baby-safe".
However, their shampoos, soaps, and lotions contain questionable ingredients detrimental to the health of babies and their parents.
The Environmental Working Group, a nonprofit environmental research organization, lists concerns over Johnson and Johnson's multiple additive exposure sources; skin, eye, and lung irritants; cytotoxic ingredients; endocrine disruptors; neurotoxins; and bioaccumulative carcinogens.
Two of the most concerning ingredients are Quaternium-15 and 1,4 dioxane.
Quaternium-15 releases formaldehyde, a well-known carcinogen that causes watery eyes; burning sensations in the eyes, nose, and throat; coughing; wheezing; nausea; and skin irritation. Daily exposure is linked to leukemia and brain cancer.
Other formaldehyde-releasing chemicals used by Johnson & Johnson include DMDM hydantoin, imidazolidinyl urea, and Diazolidinyl urea.
According to the Environmental Protection Agency, inhaling 1,4 dioxane causes vertigo, drowsiness, headache, anorexia, and irritation of the eyes, nose, throat, and lungs, while the topical application may irritate the skin. It's also a possible carcinogen.
To avoid this chemical, keep an eye out for ingredients like PEG-100 stearate, sodium laureth sulfate, sodium myreth sulfate, polyethylene, and ceteareth-20, which produce 1,4 dioxane as a byproduct.
Johnson & Johnson made the headlines as the company admitted that some of their products contain cancer-causing ingredients. One of the biggest baby product providers made the headlines after facing a multi-million dollar lawsuit.
According to The Guardian, Johnson & Johnson was sentenced to pay $72 million in a case that linked their baby powder to ovarian cancer. A Missouri jury granted the family of a deceased woman who died from ovarian cancer caused by Johnson & Johnson's baby powder containing talcum.
Jackie Fox from Birmingham, Alabama filed a lawsuit claiming that her ovarian cancer was due to the talcum component in Johnson & Johnson's baby products. Though she died at the age of 62, her foster son, Marvin Salter took over the lawsuit as a plaintiff.
According to Salter, Jackie Fox used Johnson and Johnson brand talcum powder every day for her daily regimen, "It just became second nature, like brushing your teeth, it's a household name."
Fox's attorney stated that the verdict came after almost 5 hours of thorough deliberations. They came to a conclusion after a three-week trial. Fox's case against Johnson & Johnson was the first among 1,000 lawsuits filed against the company nationally to result in a monetary award.
It was also mentioned that Fox was entitled to "$10 million in actual damages and $62 million in punitive damages." Fox's attorney stated that he expects Johnson & Johnson to appeal the verdict.
Aside from Fox's talcum lawsuit against Johnson & Johnson, which is known as one of the biggest health care products producers, it was also reported that some of their products contain a cancer-causing ingredient that is not safe for everyday use. According to Healthy Food House, Johnson & Johnson's baby shampoo contains Formaldehyde, which is used for embalming.
The company admitted to using Formaldehyde on their shampoos and other products, but they did, however, cite that they're using minimal amounts. In addition to their claims that the Formaldehyde content is minimal, it was also stated that they will soon remove the chemical from their lists of ingredients for good.
Earlier this month, the FDA granted accelerated approval to Johnson & Johnson's new bladder cancer drug, even as the company deals with the fallout from asbestos-containing talc and surgical mesh.
The drug, Balversa, was approved based on a small study of just 87 patients and will cost up to $5,670 per week.
This is fortunate timing for Johnson & Johnson – and their investors – and presents an opportunity for billions in new revenue. But as the company faces thousands of lawsuits from customers who have been injured or killed by their products, it's easy to wonder if Johnson & Johnson and their friends at the FDA are more interested in profit than cancer patients.
Let's take a look at the darker side of Johnson & Johnson, the people who have been hurt by their lies, and the truth behind their new cancer treatment.
Johnson & Johnson Puts Profits Over Safety | A History of Deceit
Talc and Cancer:
A few months ago, we covered a story about how Johnson & Johnson knew that their products contained asbestos and lied about it. Popular products like Johnson's Baby Powder and Shower to Shower were causing mesothelioma and ovarian cancer in consumers, but company executives hid the information.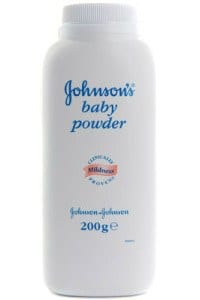 As people continued to die, court documents revealed that the company knew that there was asbestos in their talc for decades but never made an effort to disclose it to the public.
They were even successful in a campaign to influence regulators who planned to evaluate asbestos in talc products. Reports submitted to the FDA intentionally omitted results showing that their products cause cancer.
In the past several months, the company has paid billions of dollars in damages and settlements, while fiercely defending the lie that their talc products are safe.
But this isn't the only instance of Johnson & Johnson continuing to turn a profit while their customers suffer injury or death…
Fraud, Bribes, and Risperdal
This "health and wellness" company owns a pharmaceutical subsidiary called Janssen Pharmaceutica, which makes a vast number of drugs under the Johnson & Johnson umbrella. Back in 2004, the U.S. Department of Justice began investigating claims that their schizophrenia drug Risperdal was being illegally marketed. They've since lost billions in court cases determining that they knowingly lied to patients, putting them in harm's way.
Whistleblowers within the company also exposed that Johnson & Johnson and Janssen paid tens of millions of dollars to bribe pharmacists at Omnicare, the nation's biggest supplier of drugs to elderly care facilities. The drug has also been the subject of lawsuits alleging that the company intentionally withheld information about serious side effects, resulting in hundreds of millions in additional penalties and settlements.
In one of the company's biggest single losses, an Arkansas Circuit Court Judge ordered them to pay a fine of over $1,200,000,000.00 for lying to consumers and defrauding Medicaid. Dustin McDaniels, the Arkansas Attorney General at the time, approved of the steep fines:
These two companies put profits before people, and they are rightfully being held responsible for their actions."
And the lies and fraud came from the very top. The Department of Justice found that the president and head of sales for Janssen, Alex Gorsky, was "actively involved" in the deception. Gorsky is now the Chairman and CEO of Johnson & Johnson.
Surgical Mesh Becomes Commercial Mess:
In case you need more evidence that Johnson & Johnson is an evil corporate entity that will do anything for money, consider what's been happening with their surgical mesh. About a week ago, the FDA prohibited all sales of surgical mesh – an extremely rare exercise of power for the regulatory body.
This decision stems from years of ongoing legal battles about the safety of surgical mesh used to repair pelvic organ prolapse. According to the New York Times:
Litigation over a pelvic mesh, also called transvaginal mesh, ranks as one of the largest mass tort cases in the nation's history in terms of claims filed, number of corporate defendants, and settlement dollars. Seven medical device manufacturers, including Boston Scientific and Johnson & Johnson, are paying nearly $8 billion to resolve the claims of more than 100,000 women."
And while Johnson & Johnson and others voluntarily stopped selling the product just before the FDA's ban, the damage has already been done. As of last year, the FDA had learned of over 10,000 serious complications and almost 80 fatalities from the product. Pelvic mesh is an industry worth hundreds of millions of dollars in the U.S. alone.
It's All About the Money. A Wolf in Sheep's Clothing:
So, we know that Johnson & Johnson has a history of lies and deception and that they will literally let people die to protect their profits. But before we go any further, it's important that you understand exactly what this company really is.
You know Johnson & Johnson. You trust them. You, your children, and your children's children have grown up with them. They own some of the most recognizable brands in health and wellness. You don't ask for an adhesive bandage, you ask for a Band-Aid. No one says acetaminophen, they ask for Tylenol. In fact, it's likely that every person reading this has Johnson & Johnson products in their home right now.
Here are just a few of their brands:
Band-Aid
Motrin
Tylenol
Benadryl
Listerine
Aveeno
Acuvue
Clean & Clear
Neutrogena
Rogaine
Lubriderm
Imodium
Bengay
Pepcid
Rolaids
Splenda
Mylanta
And while these brands are in many ways the face of the company, they're actually a small fraction of its identity. In fact, consumer products make up less than 10% of Johnson & Johnson's annual profit. The other 91% comes from medical devices and prescription drugs.
Since going public in 1944, Johnson & Johnson has become one of the largest corporations in America, with its stock forming a component of the Dow Jones. But as the company has faced one defeat after another, its value has suffered. Before a jury uncovered the truth about their talc products causing cancer, the company was worth about $393 billion. After the verdict was read and the articles were written, they had lost nearly $53 billion of that valuation, or 13.5% of their total market capitalization.
Since December, the stock price has made a slow return but faces continual setbacks with each new verdict and settlement. It seems convenient, then, that the FDA would expedite approval for a new cancer drug just when this company needs a win the most.
Money, Cancer, and More Money
Here's the press release from Janssen and Johnson & Johnson:
The Janssen Pharmaceutical Companies of Johnson & Johnson announced today that BALVERSA™ (erdafitinib) received accelerated approval from the U.S. Food and Drug Administration (FDA) for the treatment of adults with locally advanced or metastatic urothelial carcinoma (mUC) which has susceptible fibroblast growth factor receptor (FGFR)3 or FGFR2 genetic alterations and who have progressed during or following at least one line of prior platinum-containing chemotherapy, including within 12 months of neoadjuvant or adjuvant platinum-containing chemotherapy. BALVERSA is the first FGFR kinase inhibitor approved by the FDA."
The drug is still in an experimental phase and comes with plenty of known side effects already. It is also only for patients whose cancer has progressed during or after chemotherapy, which means their immune systems will be weakened. Nevertheless, the new drug will come with a hefty price tag and can generate over $1 billion for Johnson & Johnson each year.
Since the news of the approval, the company's value has increased by $14.5 billion. This is no small number and a major win for executives, investors, and anyone else who profits from Johnson & Johnson's success. That might explain why the FDA so quickly granted approval for an experimental drug to a company with a history of fraud, deceit, and bribery. A company that is currently facing countless lawsuits from people who have been injured or killed because of its lies. A company run by a man who has been directly involved in these scandals and continued to grow richer.
The FDA's Financial Ties to Big Pharma:
At the risk of sounding like a broken record, I will say this again: The FDA is a corrupt agency that is paid by the pharmaceutical industry. It is a virtual revolving door for those protecting corporate interests. We've talked about how executives from Monsanto were able to literally conduct their own research through the FDA regarding GMOs, or how Merck was able to use its influence to bury information proving the MMR vaccine to be dangerous.
Who owns Johnson and Johnson?
Janssen Biotech, Inc., formerly known as Centocor Biotech, Inc., is a biotechnology company that was founded in Philadelphia in 1979. In 1982, Centocor transitioned into a publicly traded company. In 1999, Centocor became a wholly-owned subsidiary of Johnson & Johnson.
And it's hard to blame them; nearly every pharmaceutical company exercises influence over regulators at the FDA. You see when a new therapy is up for FDA approval, advisory committees are formed to review the new drug and vote on whether or not it should be approved. The FDA always follows these recommendations.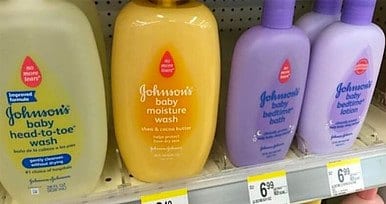 But a look into the financials of these committee members paints a more sinister picture. Physicians who sit on these advisory boards nearly always end up taking money from the companies relying on their votes. These bribes are not well-masked, showing up as consulting fees, travel compensation, or research grants.
According to sciencemag.org, "An analysis of pharma payments to 107 physicians who advised FDA on 28 drugs approved from 2008 to 2014 found that a majority later got money for travel or consulting, or received research subsidies from the makers of the drugs on which they voted or from competing firms."
Doctors expect gifts from Big Pharma the way waiters expect tips from their guests. It's not required, but it's expected. And it makes a significant difference in their income.
While physicians with financial ties to pharmaceutical companies are generally not permitted to serve on the committees, analysis shows that the majority receive gifts after voting in the companies' favor. Johnson & Johnson has given millions to these committee members in return for favorable votes, and Balversa will likely be no different.
After approving Xarelto, a prescription blood thinner manufactured by Johnson & Johnson, several FDA advisors received gifts from the pharmaceutical industry. In all, Johnson & Johnson paid almost $200,000 to advisors who approved the drug.
To advisors approving the antipsychotic Adasuve, Johnson & Johnson paid over $500,000.
Robert Harrington, who voted to approve a new blood pressure medication, received $426,289 from the pharmaceutical industry after his vote. Johnson & Johnson contributed $252,480.
Until we fix the system, companies like Johnson & Johnson will continue to lie. They'll continue to profit. And people will continue to die. It is imperative that we get money out of the equation when it comes to corporate entities and their regulatory bodies. As long as the FDA can be bought, our food and medicine will continue to be unsafe. There is just too much money for these corporate giants to go down without a fight.
Johnson & Johnson will tell you that their new drug is a miracle for patients with bladder cancer. The only miracle here is that the company's executives aren't in prison.
Johnson & Johnson Finally Admits: Our Baby Products Contain Cancer-Causing Ingredients.
Top Seven Cancer-Causing Cosmetic Ingredients:
You've probably heard about some of the dangerous chemicals that may be lurking in your shampoos, body washes, and skin moisturizers. Still, all the information flying around out there can get confusing, so we've narrowed it down to 7-seven ingredients that have been linked to cancer. Look for these on your label ingredient decks, and if the product has it, don't buy it!
Phthalates:
Chemicals produced from oil to make plastic, and phthalates are also used as solvents in cosmetic products like nail polishes, perfumes, and hair sprays. They've been found in animal tests to damage the liver, kidneys, lungs, and reproductive system. The Environmental Protection Agency has labeled phthalates as probable human carcinogens. Human studies have found developmental abnormalities in male infants correlating with high phthalate levels in their mother's bodies. Look for abbreviations like "DBP," "DEP," "DEHP," "BzBP," and "DMP."
Parabens:
Preservatives used in a variety of personal-care products, parabens have been found in breast tumors by scientists, and are known to disrupt normal hormone function in the body. Avoid words like "methyl," "propyl," "butyl," and "ethyl" parabens.
Talc:
Found in baby powders, talcum powders, and genital deodorant sprays, talc has been linked with ovarian cancer. A meta-analysis in 2003 found a 33% higher risk of ovarian cancer among talc users. Plain talc has been shown in some rodent studies to be carcinogenic, with tiny particles that can get into the lungs. Avoid talc-containing products and use ointments instead of powders for diaper rash.
Fragrance:
Synthetic fragrances can contain as many as 200 unknown chemicals. Since companies aren't required to list those chemicals, you have no way of knowing what you're putting on your skin. According to a 1986 report, 99% of the chemicals used in fragrances are synthetic compounds derived from petroleum, including benzene derivatives, aldehydes, and other known toxic ingredients capable of causing cancer. If you see "fragrance" on the ingredient list, avoid the product. Choose instead of alternatives that list essential oils and other natural fragrance alternatives.
Formaldehyde:
A colorless gas, formaldehyde is listed by the U.S. National Toxicology Program as "reasonably anticipated to cause cancer." It can cause allergic reactions, contact dermatitis, and headaches, and is listed in the European Union as toxic and carcinogenic. You may find it in nail hardeners and nail polishes, and it can also be a by-product in the manufacturing of bath products. To avoid this chemical, ask about formaldehyde content before purchasing pressed-wood products like cabinetry and furniture, and purchase organic personal-care products.
Petrolatum:
Listed as mineral oil, liquid paraffin, toluene, or petroleum, petro products have been banned or restricted for use in cosmetics in other countries. Researchers conducting animal studies have theorized that petroleum-derived ingredients in moisturizers may promote skin cancer tumor growth. EWG also found that many petroleum-based cosmetic ingredients can be contaminated with a dangerous by-product called 1,4-dioxane. Avoid these ingredients and choose natural moisturizers like shea butter and jojoba oils instead.
1,4 dioxane: The Environmental Working Group (EWG) found that 97% of hair relaxers, 82% of hair dyes, 57% of baby soaps, 43% of body-firming lotions, 36% of facial moisturizers, and 34% of body lotions contain 1,4-dioxane-a chemical by-product produced in cosmetics manufacturing and a known carcinogen. To avoid it, watch for words like "PEG," "xynol," "ceterareth," and "oleth."
Reference: Link.
Cosmetics and The Cancer Connection:
Many cosmetics contain chemicals known as parabens and phthalates, which recent studies indicate may be linked to cancer development. … Estrogenic chemicals mimic the function of the naturally occurring hormone estrogen, and exposure to external estrogens has been shown to increase the risk of breast cancer.
Because testing is voluntary and controlled by cosmetic manufacturers, many ingredients in cosmetic products are not tested for safety. The Environmental Working Group's Skin Deep states that 89 percent of ingredients used in personal care products have not been evaluated for safety by the Cosmetic Ingredient Review (CIR) panel, the FDA, or any other publicly accountable institution (FDA 2000, CIR 2003). The absence of governmental oversight for this $35 billion industry means that companies routinely market products with ingredients that are poorly studied, not studied at all, or worse, known to pose potentially serious health risks. It's time to protect consumers.
Many cosmetics contain chemicals known as parabens and phthalates, which recent studies indicate may be linked to cancer development.
Parabens are chemical preservatives that have been identified as estrogenic and disruptive of normal hormone function. Estrogenic chemicals mimic the function of the naturally occurring hormone estrogen, and exposure to external estrogens has been shown to increase the risk of breast cancer.
Phthalates are known to cause a broad range of birth defects and lifelong reproductive problems in laboratory animals exposed to these chemicals during pregnancy and after birth. Phthalates are also known to be hormone-mimicking chemicals, many of which disrupt normal hormonal processes, raising concern about their implications for increased breast cancer risk.
Many cosmetic companies argue that the level of a harmful chemical in any one product is not enough to harm you, on the basis of studies of chemical exposure in adults. However, science is finding the timing of exposure is crucial, and that even a very small dose of some chemicals can have serious consequences in children and young women who are still developing.
Moreover, we are rarely exposed to a chemical just one time. We may use the same product every day, several days a week, for months or years. In addition, we use dozens of personal care products daily, not just one. So while exposure from one product on one day may be small, we in fact use numerous products a day for extended periods of time. As a result, scientists are finding accumulations of chemicals such as parabens and phthalates in our bodies.
Many diseases like cancer, asthma, birth defects, and learning disabilities are on the rise, and growing evidence indicates that these health problems are linked to the chemicals we are exposed to in our air, water, food, and everyday products. It's time we start acting to protect human health.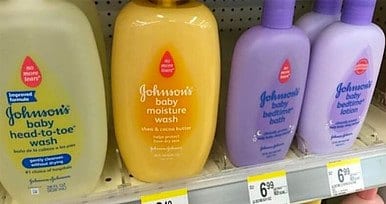 There have been numerous controversies surrounding cosmetic products and increased cancer risk. Such controversies include associations between parabens and breast cancer, hair dyes and hematologic malignancies, and talc powders and ovarian cancer. Despite the prominent media coverage and numerous scientific investigations, the majority of these associations currently lack conclusive evidence. In 2016, the US Food and Drug Administration (FDA) made publically available all adverse event reports in the Center for Food Safety and Applied Nutrition's Adverse Event Reporting System (CAERS), which includes complaints related to cosmetic products.
We mined CAERS for cancer-related reports attributed to cosmetics. Between 2004 and 2017, cancer-related reports caused by cosmetics represented 41% of all adverse events related to cosmetics. This yielded 4427 individual reports of cancer related to a cosmetic product. Of these reports, the FDA redacted the specific product names in 95% of cancer-related reports under the Freedom of Information Act exemptions, most likely due to ongoing legal proceedings.
These Shampoos cause cancer, link.
Dove's 'Real' Beauty Products Are Filled With Cancer-Causing Chemicals, Fake Dyes, And Toxic Fragrances. Dove's 'Real' Beauty Products Are Filled With Cancer-Causing Chemicals, Fake Dyes, And Toxic Fragrance: … The brand Dove started in 1957 when the Lever Brothers produced an original beauty bar. Mar 27, 2017
Dove's 'Real' Beauty Products Are Filled With Cancer-Causing Chemicals, Fake Dyes, And Toxic Fragrance
Nowadays, we are constantly struggling to reach the high standards that fashion and modern advertising impose on perfection. We started hating every single blemish or wrinkle on our faces, we began photoshopping our bodies, we hated our frizzy, curly, thin hair, etc.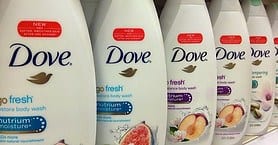 On the other hand, Dove had a different campaign, which included real women, with their real bodies. These people talk about their insecurities about their looks and the way they accept their natural beauty.
Therefore, we would rather buy products that say that we are already beautiful than cosmetics that say we must use them to become pretty. Yet, we expect that the first ones are filled with natural ingredients, but apparently, they are loaded with toxic components!
The brand Dove started in 1957 when the Lever Brothers produced an original 'beauty bar.' The advertisement claimed that their products were 'much better for your skin' than other soaps and that it contained 'one-quarter cleansing cream.'
Since then, the logo featured the bird silhouette we see today as well. Yet, the models then were typical for the time, girly, with red lips. Their ads began featuring real women in the late 60s, who testified in front of a supposedly hidden camera about the moisturizing effects of the soap.
After two decades, the company started promoting inner beauty, and the ad focused on one woman 'Jean Shy' who reflects on a compliment given to her about her skin after using Dove.
In 1991, the "Litmus tests' started, and the soap was advertised as low alkaline. 'Dove is mildest. Bar none.' The company started producing body lotions, shampoo, cleansers, deodorants, hand, and face care.
In 2004, they launched the official campaign for real beauty.
In 2005, the Dove Self-Esteem Fund was founded to fight eating disorders, and they released videos that showed the unrealistic portrayal of beauty from the media, and the pressure from the press which makes girls insecure and unconfident.
Nowadays, it is the leading cleansing brand in the world, having sales of over $2.5 billion U.S. a year, in over 80 countries.
However, research has found numerous toxic ingredients in their products:
Deep Moisture Body Wash:
The original Dove product has not been changed over the years, and the company claims that it is:
Dermatologically tested and recommended
Excellent for everyday use on the body, face, and hands
Does not dry the skin
Contains ¼ moisturizing cream and mild cleansers which moisten the skin
Classic moisturizing formula
Makes the skin softer, smoother, and radiant
Yet, this is the list of the ingredients:
Sodium Lauroyl Isethionate, Stearic Acid, Sodium Tallowate Or Sodium Palmitate, Lauric Acid, Sodium Isethionate, Water, Sodium Stearate, Cocamidopropyl Betaine, Sodium Cocoate Or Sodium Palm Kernelate, Fragrance, Sodium Chloride, Tetrasodium Edta, Tetrasodium Etidronate, Titanium Dioxide (Ci 77891).
To clarify the effects of these products, we will provide a more detailed explanation of their ingredients:
Fragrance/Perfume is scientifically confirmed to raise the risk of skin sensitivities, as it irritates the skin and is the leading cause of dermatitis from cosmetic use.
Methylisothiazolinone – This chemical has been found to lead to neurodegenerative disorders and seizures.
Sodium Tallowate – Sodium Tallowate is derived from the fatty tissue of cattle, so vegans should avoid it.
Sodium Laureth Sulfate – More than 16,000 studies have been evaluating the cumulative effect and long-term exposure of SLS and have found that it is related to:
Developmental/reproductive toxicity
Irritation of the skin and eyes
Possible mutations and cancer
Organ toxicity
Lipstick Brands That Are Full Of Cancer-Causing Heavy Mercury Metals /November 18, 2017
The makeup industry is secretly one of the most corrupt industries in the world, whether you believe it or not. The chemicals women are putting on their faces today are toxic; if you don't believe me see for yourself.
Five lipsticks made by L'Oreal and Maybelline, owned by L'Oreal USA, ranked among the top 10 most contaminated cosmetics, according to testing by the Food and Drug Administration. … For years, the Campaign for Safe Cosmetics has been pushing the government to set limits for lead levels in lipstick.
The lead content in Maybelline's Pink Petal is more than twice as high as levels found in the previous FDA report and more than 275 times the level found in the least-contaminated product in the recent report, the group wrote in a letter to the agency this month.
Here is a list of the 10 brands and shades that contain the most lead, according to the FDA's study. A full analysis of all 400 varieties is available here.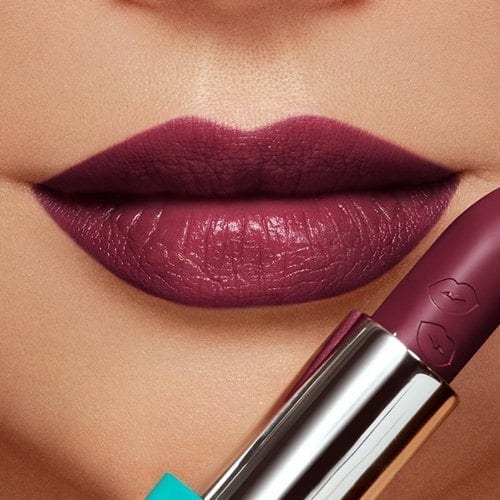 1. Maybelline's Color Sensation in Pink Petal. (Lead content: 7.19 ppm)
2. L'Oreal Colour Riche in Volcanic. (Lead content: 7.00 ppm)
3. NARS Semi-Matte in Red Lizard. (Lead content: 4.93 ppm)
4. Cover Girl Queen Collection Vibrant Hues Color in Ruby Remix (Lead content: 4.92 ppm)
5. NARS Semi-Matte in Funny Face. (Lead content: 4.89)
6. L'Oreal Colour Rich in Tickled Pink. (Lead content: 4.45)
7. L'Oreal Intensely Moisturizing Lipcolor in Heroic. (Lead content: 4.41)
8. Cover Girl Continuous Color in Warm Brick. (Lead content: 4.28)
9. Maybelline Color Sensational in Mauve Me. (Lead content: 4.23)
10. Stargazer lipstick in shade "c." (Lead content: 4.12)
List of carcinogenic lipstick:
1. (#103c), Stargazer Lipstick
2. (#1005 Red Lizard), NARS Semi-Matte
3.(#410 Volcanic), L'Oreal Colour Riche
4.(#125 Pink Petal), Maybelline Color Sensational
5. (#165 Tickled Pink), L'Oreal Colour Riche
6. (#580 Ruby Remix), CoverGirl Queen Collection Vibrant Hues
7. (#27 Mauvey), Sonia Kashuk Luxury Lip Color
8. (#748 Heroic), L'Oreal Intensely Moisturizing Lipcolor
9. (#025 Warm Brick), CoverGirl Continuous Color
10. (#475 Mauve Me), Maybelline Color Sensation
11. (#009 Fabulous Fig), Revlon Matte
12. (#1009 Funny Face), NARS Semi-Matte
13. (#375 Ripened Red), Revlon ColorStay
14. (#558 Mad for Mauve), Avon Beyond Color
15. (#530 Mauve Amour), L'Oreal Endless
16. (#631 Luminous Pink), Revlon Super Lustrous Peal
17. (Toffee), Burt's Bees Lip Shimmer
18. (#643 Satin Plum), Revlon Super Lustrous Peal
The makeup industry uses some of the most profound carcinogenic chemicals ever known. Lots of lipsticks contain toxic heavy metals in them. Always check the ingredient labels before you purchase your next lipstick. The CEOs of these makeup companies are making billions per year at the expense of your health. Of course, they're not the only ones doing this. Many corporations that control our food and water do the very same thing. It's no wonder cancer is on such a rapid rise.
Were you aware of the fact that the US has few health regulations and no required health testing before their products hit the shelves? This is an open window for the greedy CEOs to save millions of dollars; at the price of your health. They particularly use harmful chemicals in deodorants, foundations, powders, lipsticks, and shampoos. The Environmental Defense Group tested 49 makeup items for their levels of toxic metals. What they found was stunning. In fact, almost all of the most popular makeup brands tested for highly toxic metals. They tested the following.
5 foundations
4 powders
4 concealers
8 lipsticks or glosses
5 blushes or bronzers
7 mascaras
2 eyeliners
14 eye shadows
TAKE ACTION and tell L'Oreal that cancer isn't glamourous:
Around 96% of the makeup products tested contained lead-based ingredients. 90% contained beryllium-based ingredients, and 61% contained thallium-based ingredients. That's not all either; 51% had cadmium and 20% contained arsenic. It's clear to see that these are not chemicals that belong in makeup products or anything else that comes in contact with people for that matter.
Cosmetics and cancer – We love our cosmetics, but just like our relationships, some are toxic whereas others are better for our health!
They promise us beauty, glamour, youthfulness, and 'healthy' glowing skin. They give us confidence that we look at our very best, every day. Is there a PRICE to pay for this? Yes, there is a very big one – our health.
Sometimes when you apply cosmetics your body gives you warnings immediately. Warnings or symptoms such as itchiness or redness can come up quickly, whereas some take longer and are much more serious.
There are often, hidden symptoms and side effects packaged within our cosmetics:
Itching, Burning, Allergy, Acne, Headaches, Rashes, Eye Damage, Contact Dermatitis, Inflammation, Asthma, Digestive Upsets, Premature Ageing, Sensitisation, Hair Loss, Depression, Swelling, Eczema, Infertility, Mood Swings, Memory Lapses, Restlessness, Sun Damage, Wrinkles, Psoriasis, Sagging Skin, Pain and,
CANCER!
I, like you, want to look after myself, but this is simply too high a PRICE to pay especially for your health.
Why is this happening?
The world we live in has become overloaded with chemicals, and our environment, our homes, and more importantly our BODIES have become a place to accumulate them.
Cosmetics and cancer are linked!!!
The cosmetic industry uses thousands of synthetic chemicals in its products; in everything from lipsticks, nail polish, lotions, hair spray, shampoos, toothpaste, and shaving creams. The danger for us is that our skin, and eyes, are highly absorbent, which means dangerous chemicals are easily absorbed and can be stored in our bodies for decades.
The lack of appropriate standards for cosmetics has meant many manufacturers take advantage of and mislead consumers like you. They knowingly add ingredients to cosmetics and cancer is known to be caused by these.
For example, a successful class action by women worldwide was won against Johnson and Johnson as they had asbestos and other ingredients in their talc product, which was shown to be linked to ovarian cancer, and they were ordered to pay $6.32 billion (AUD).
You may not know many companies add ingredients such as diethanolamine (DEA), monoethanolamine (MEA), and triethanolamine (TEA), all of which are hormone-disrupting and known for causing CANCER.
Look out for these TOXIC Chemical Ingredients listed on your Personal Care Products:
Cocamide DEA, cosmetics and cancer – Danger
Cocamide MEA,
DEA-Cetyl Phosphate,
DEA Oleth-3 Phosphate,
Lauramide DEA,
Linoleamide MEA,
Myristamide DEA,
Oleamide DEA,
Stearamide MEA,
TEA-Lauryl Sulfate, and
Triethanolamine.
Many people like you find it difficult to remember all these long chemical names when shopping, which is totally understandable! I do too and I am always on the lookout for toxic ingredients to avoid for years.
Perfumes:
Perfumes actually don't provide the Material Safety Data Sheets (MSDS)s, which is a document that lists the long number of hormone-disrupting ingredients in these products, sighting 'company confidentiality'.
Did you know that some lipsticks contain LEAD? Lead causes brain damage.
Many of the ingredients found in cosmetics are also used in industrial manufacturing processes. Processes such as cleaning industrial equipment, stabilizing pesticides, and greasing equipment. An ingredient that effectively scours a garage floor is probably not the best choice for our daily facial cleanser!
The standards required to prepare a cosmetic for sale are simply not stringent enough.
Around the world, major loopholes in our laws, allow the cosmetic industry to put thousands of synthetic untested chemicals into our personal care products. Effectively a cocktail of toxic cosmetics and cancer can follow. At the same time, these chemicals are being steadily introduced into our environment. The incidence of cancer, infertility, and birth defects has risen dramatically, which is not surprising when you understand the link between cosmetics and cancer.
Use of the words 'clinically' tested?
People like you believe that cosmetics must be 'clinically' tested. Unfortunately, that is not true. The word 'clinically' has no regulation or meaning if not related to a controlled human clinical trial, which is detailed in the International ICH-GCP guidelines. This guideline was developed when thalidomide was found to cause birth defects when given to pregnant women in the 1950s.
Clinical testing is now required for new drugs to make sure they are safe, but cosmetics aren't considered drugs, and not enough people understand the dangers to their health to demand changes in our laws.
Marketing is not science so don't pretend it is.
Often this loophole is exploited by the cosmetic industry by doing their 'tests' on very small numbers and maybe only once, which is not scientific. Most of these people, women usually as it is their 'target market', and are given a free product or paid for their opinions.
For example, if just ten FREE samples of products are given, they then can ask these women if they 'like' them, even after just a few days of use.
Typically, popular supermodels or actresses are paid for their endorsement; these women will say they "love it". Even they like extra dollars. The company then proudly quotes:
9 out of 10 women think product 'X' is better than anything they have used before!
Compared to the testing and standards of food, or even the vilified pharmaceutical (drug) industry, these methods are clearly unsatisfactory.
To call this 'clinical testing' based on survey results of people who are not compared to a control group or placebo, who are paid or gifted product, is effectively 'buying a result', and is misleading and unscientific. However, they make it sound like it has been properly tested.
Look out for the use of the words 'clinically tested'. Now that you know, you most likely will see these words all over cosmetic packets and advertising when you look.
Not tested before being sold in Supermarkets:
What you don't realize is the products on supermarket shelves (e.g. cosmetics, cleaning & gardening products, etc.), are not required to be tested for safety BEFORE they are put on the market. What this means you have a deadly experimental chemical cocktail in your home. This is what the documentary movie, The Human Experiment, explains.
Innocent until proven guilty is NOT GOOD ENOUGH!
Use of the words 'natural' and 'organic' or 'organic ingredients:
Manufacturers have often managed to label their products as 'natural' or 'organic' or contain 'organic ingredients' because the current rules enable them to do so and consumers don't realize that these words are meaningless unless they are certified and carry the certified logo (see below).
How to avoid these traps of cosmetics and cancer-related ingredients if you know?
Buying 'CERTIFIED ORGANIC' IS THE ANSWER to get around this misleading labeling!
PLEASE NOTICE THE YEAR, THERE MAY HAVE BEEN CHANGES MADE SINCE THE ARTICLE WAS FIRST PUBLISHED.
I have NOT found any research to indicate the proper safety measures have been implemented.
More products linked to Cancer:
According to the David Suzuki Foundation, some of the common chemicals found in household cleaning products include 2-BE (causes reproductive problems), ammonia (associated with kidney and live damage), coal tar dyes (causes cancer and harms the nervous system), and the infamous "fragrance" or perfume.
Most people have toxic products linked to cancer in every corner of their homes, often without even realizing it. It's not like the labels of these products all have a huge warning sign that reads, "I can cause cancer!"
Nevertheless, whether people knowingly purchase these cancer-causing products or not, we need to educate one another on their potentially harmful effects.
The following list highlights some of the most popular products found in North American homes that are linked to cancer:
1. Shampoo
One of the most common items hiding in most people's homes is chemical-ridden hair products, particularly shampoos and conditioners. Some of the typical chemicals within conventional shampoos include sodium lauryl sulfate (SLS), parfum/fragrance, parabens, synthetic colors, and more.
Parabens are a known carcinogen, as they're directly associated with different types of cancer; for example, one study found that 99% of breast cancer tissues tested had parabens in them. Some common ingredients in perfume/synthetic fragrances are benzene derivatives, aldehydes, phthalates, and many other toxins associated with cancer, birth defects, nervous-system disorders, and allergies.
Head & Shoulders: 
Specifically contains fragrance, synthetic colors, and SLS, amongst a myriad of other chemicals in the toxic cocktail that makes up their shampoos and conditioners. Some of their shampoo products also contain methylchloroisothiazolinone, a potential mutagen.
Non-Stick Cookware:
When I first discovered non-stick cookware, most people absolutely loved it! That was until it was found out about the potential health risks that come with cooking with these products. The issue is that non-stick cookware is created using a synthetic coating of polytetrafluoroethylene, otherwise known as Teflon, a plastic polymer that will actually release toxins when heated at 450 degrees Fahrenheit or higher.
One study found that heating cookware coated with Teflon for only two to five minutes on a conventional stovetop can cause the coating to break apart and emit toxic particles and gases. Even just inhaling these can cause people to become sick with what's known as the "Teflon flu."
Some of the chemicals within that coating are also considered potential carcinogens.
Artificial sweeteners are in many products, and one of the most prevalent ones is aspartame. Aspartame is commonly thought to only be in diet sodas, but it's often added to teas, energy drinks, protein shakes, milk products, juices, and other artificially flavored beverages. Aspartame has been linked to numerous health problems, including cancer.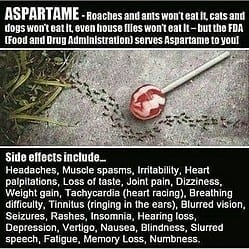 There's been a lot of controversy surrounding the aspartame/cancer link, and many corporations that profit from aspartame have funded research in efforts to disprove the causal link. However, a study performed in 2007 showed that aspartame can cause leukemias/lymphomas and mammary (breast) cancer.
Instead of using artificial sweeteners, try a natural alternative such as maple syrup, or raw honey.
Plastic Bottles and Food Containers:
So much of our "food" comes in plastic bags, containers, and bottles. Even our fruits and vegetables are commonly wrapped in plastic. Not only is this extremely wasteful and bad for the environment, but it isn't very good for our health, either.
If you're drinking from a plastic water bottle, the chemicals within that plastic that are touching your lips can literally seep into your mouth, especially if your water has been sitting in the bottle for a while. Did you leave your bottle in a hot car? That's even worse, as the heat expedites this chemical leaching.
You've probably noticed more and more "BPA-free" labels on plastic bottles, and that's because people have become increasingly aware of how using plastic containers can harm our health, as many contain BPA, which can cause cancer in people.
An easy solution is to use a refillable water bottle and glassware, which is not only better for your own health but the health of the environment, too.
Air Fresheners:
This is a big one. Air fresheners are all over people's houses; from bedrooms to bathrooms to cars, people love them. Typically they're made with synthetic fragrance, otherwise known as parfum. Parfum is basically a cocktail of toxic chemicals, but instead of listing all of these chemicals on the back of products, it's conveniently labeled as "parfum" so that companies can keep their signature fragrance a trade secret.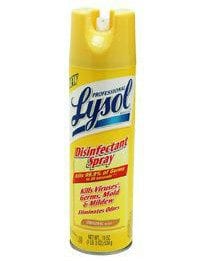 Unfortunately, this also allows companies to hide harmful ingredients, many of which are known carcinogens, in their products without the consumer even knowing.
For a more natural alternative, try brands like Saje Natural Wellness or DoTerra, or make your own using essential oils and water! You could even use natural disinfectants like tea tree and pine essential oils.
Conventional Cleaners:
Most families have an entire shelf filled with toxic cleaners because corporations convince consumers they need different products to clean specific surfaces. Even though most of these products have toxic warning signs on them that clearly state they're poisonous and/or corrosive, people continue to, quite literally, buy into this corporate propaganda. Not only are they breathing in these fumes while cleaning, but so are any of their household visitors and/or children.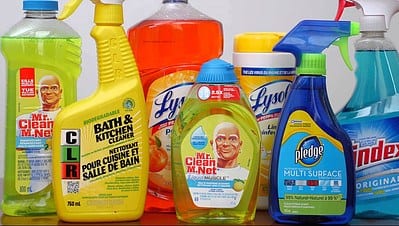 According to the David Suzuki Foundation, some of the common chemicals found in household cleaning products include 2-BE (causes reproductive problems), ammonia (associated with kidney and live damage), coal tar dyes (cause cancer and harm to the nervous system), and the infamous "fragrance" or parfum. For an all-natural, all-purpose household cleaner, check out Dr. Bronner's.
Toothpaste:
Commercial kinds of toothpaste primarily use toxic substances as a means to "clean your mouth," as the ingredients in regular kinds of toothpaste can cause enamel damage, dental fluorosis, stomach ailments, skin rashes, and more.
One of the worst ingredients found in most conventional and "dentist-approved" kinds of toothpaste is fluoride, a known carcinogen. Fluoride has been a known neurotoxin for a long time, but the government claims it benefits our teeth. In reality, it hasn't actually been proven to prevent the buildup of harmful oral bacteria; however, it has proven to be toxic, with long-term ingestion linked to brain, heart, and bone issues. You can get fluoride-free toothpaste here.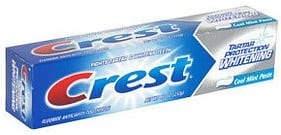 "In point of fact, fluoride causes more human cancer deaths than any other chemical. When you have the power you don't have to tell the truth. That's a rule that's been working in this world for generations. There are a great many people who don't tell the truth when they are in power in administrative positions. This amounts to public murder on a grand scale, it is a public crime. . . . It is some of the most conclusive bits of scientific and biological evidence that I have come across in my 50 years in the field of cancer research."
Products linked to Cancer. Link.
Please do your own research as many of these products have either been taken off store shelves, or proper corrections have been made to ensure your health.
Thank you for reading.
Comments are welcome,
Michael